TeSys contactors
LC1D and LC1F types for DOL (Direct On Line) motor control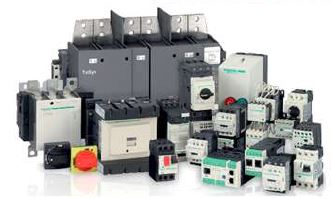 TeSys D (LC1D) contactors - 9-150A (AC-3)
A TeSys D contactor offers you quick simple setup, while maintaining a compact size of 45 (9 to 38A) and 55 mm (40 to 65 A) as well as compliance with international standards. From 40 to 65A versions are equipped with EverLink™, this patented terminal technology, ensures a permanent tightening quality even in the event of conductor creep.
Safety
Safe and long-lasting power connection with Everlink and spring terminals
Suitable for safety applications thanks to mechanically linked and mirror contacts (compliant with IEC 60947-4-1 and IEC 60947-5-1)
dentification of safety chain with red cover and aux contact
Efficiency
Recognized high performances and quality solutions
Outstanding breaking/making capacity up to 20In
Multi-standard : IEC, UL, CCC, EAC, Marine, etc.
Continuity of service
Certified type 1 and 2 coordination tables
Worldwide availability of products and after sales services
PLC direct connection
TeSys D is the only contactor range with full compatibility with PLC input/output from 9A to 65A.
TeSys D low consumption DC coil (BL references) uses only 100mA inrush and sealed from 9 to 38A
New TeSys D Green (BBE coil references) is compatible with digital I/O
---
Index
1. LC1D 3-pole (3P) contactors
Back to index ▲
Notes about terminal types and available coil voltages for LC1D contactors: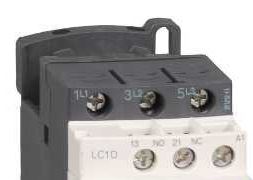 All contactors shown above are using screw clamp terminals. Other terminals are available: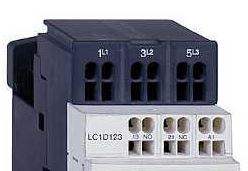 Spring terminals: add "3" before the coil code (e.g. LC1D093M7 for the spring terminal version of LC1D09M7.

Fast-on lug terminals: add "6" before the coil code (e.g. LC1D096M7 for the fast-on lug terminal version of LC1D09M7.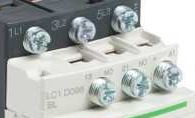 Lug terminals: add "9" before the coil code (e.g. LC1D099M7 for the lug terminal version of LC1D09M7.

Other coil voltages as well as spare/replacement coils are available. Replace the last 2 characters of the contactor SKU code with codes show in the coil codes table
24V
48V
72V
110V
220V
230V
240V
380V
400V
500V
690V
AC (50Hz)
B5
F5
M5
P5
U5
Q5
V5
S5
Y5
AC (60Hz)
B6
F6
M6
U6
S6
AC (50/60Hz)
B7
E7
F7
M7
P7
U7
Q7
V7
S7
Y7
DC
ED
BD
SD
FD
MD
DC (low consumption
<2.4W)
EL
BL
SL
FL
ML
Wide-range voltage coil
only available for
some contactor ratings
BW
EW
SW
FW
MW
---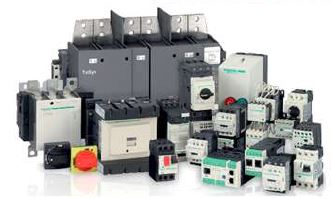 TeSys F contactors, from 150A to 800A (AC-3 at 440Vac), 1000A to 2600A (AC-1)
Motor applications, 150 to 800A (AC-3) Overview:
2 pole (400A, 500A & 630A), 3 pole (115 - 2600A) & 4 pole (115A - 780A) pole contactors
For all types of motor applications up to (AC-3) 670 kW / 440V, in normal or severe service conditions
Pre assembled 3 pole AC-3 reversing contactors (115-265A) & 4 pole AC-1 change-over contactors (200-350A)
Wide range of AC (40-400Hz) and DC control voltages
Multiple options for connecting bus bars & cables
Wide range of accessories to improve flexibility & safety
Fast, simple mounting together with TeSys GV7-R circuit breaker for motor starter solution


Resistive load applications 1250A to 2600A (AC-1)
TeSys F offers very high performance in motor control & power switching applications
Proven reliability and high electrical durability
Combined with the LR9 electronic relay or GV7 motor circuit breaker, AC3 contactors are the ideal motor starters, offering quick & simple selection
Shared accessories across the range offers greater flexibility
Withdrawable type coils allow easy maintenance
TeSys F contactors guarantee electrical coordination with fuses and Masterpact NW circuit breaker offer
Control of all types of motors and distribution circuits
Industry, infrastructure, building, Wind turbines , Photovoltaic, data centres, etc.
Control of resistive, inductive and capacitive circuits
Frequency drives and soft starters
Light distribution circuits, Induction furnaces, etc.

---
2. LC1F 3-pole (3P) contactors
Back to index ▲
---
3. Common accessories for TeSys D and TeSys F contactors
3.1. Auxiliary contacts
Back to index ▲
3.2. Mechanical timers
Back to index ▲
3.3. Surge suppressor modules
3.3.1. RC circuit surge suppressors
Back to index ▲
Use cases:
Effective protection for circuits highly sensitive to "high frequency" interference. For use only in cases where the voltage is virtually sinusoidal, i.e. less than 5% THD (Total Harmonic Distortion). Voltage limited to 3xUc maximum and oscillating frequency limited to 400Hz maximum. Generates a slight increase in drop-out (1.2 to 2x the normal drop-out time)
3.3.2. Varistors (peak limiting)
Back to index ▲
Use cases:
Protection provided by limiting the transient voltage to 2 Uc maximum. Maximum reduction of transient voltage peaks. Slight increase in drop-out time (1.1 to 1.5x the normal drop-out time)
3.4 Mechanical latch blocks (for TeSys D contactors only)
Back to index ▲
---
4. Documentation
Back to index ▲